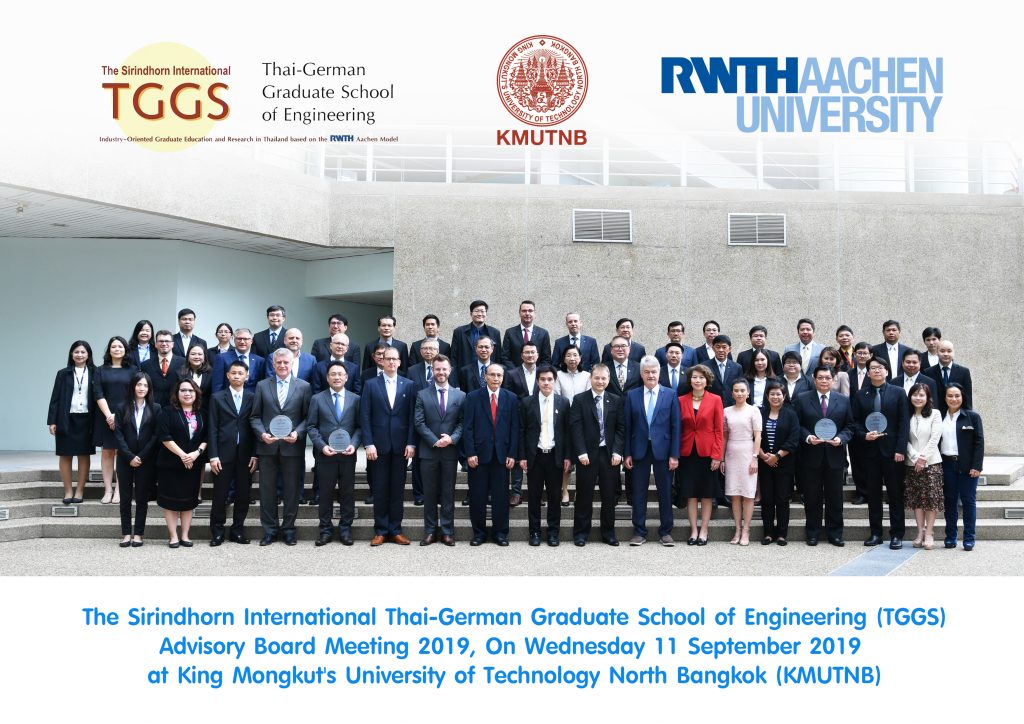 On Wednesday 11 Sep 2019, The Sirindhorn International Thai-German Graduate School of Engineering-TGGS hosted the annual TGGS Advisory Board Meeting 2019 at Rachapruek Conference Room, King Mongkut's University of Technology North Bangkok. In this meeting, H.E. Mr. Georg Schmidt, German Ambassador to Thailand, was the honorary chairman together with two co-chairmen, Prof.Dr.-Ing. habil. Suchart Siengchin, President of KMUTNB and Prof. Dr.-Ing. Edmund Haberstroh, representative of Rector of RWTH-Aachen University.
The TGGS Advisory Board serves as the channel for the stakeholders to supervise the operation of TGGS in accordance with its missions. The meeting is held annually in September. TGGS's stakeholders are representatives from industry and governmental organizations. The board members invited from industry are PTT, Bangchak, SCG, Western Digital, Siemens, Covestro, BMW, BASF, B.Grimm, Robert Bosch, Tuv Rheinland, Schaeffler, Energy Absolute, Federation of Thai Industries and German-Thai Chamber of Commerce. The board members invited from governmental organizations are German Embassy to Thailand, Ministry of Foreign Affairs, DAAD, Goethe Institute and 3 Electricity Authorities. The meeting agenda were performance report, discussions on industry collaboration in teaching and research, visions and administration policy etc. In addition to the regular agenda, the plan of 15th Anniversary of TGGS in 2020 was also discussed.
The Sirindhorn International Thai-German Graduate School of Engineering-TGGS offers international post-graduate engineering graduates in master and doctoral level based on the educational model of RWTH-Aachen University, Germany. TGGS's major mission is to develop engineers in advanced level, who are capable of research and development work based on real industry demands. In addition, TGGS serves as the knowledge exchange and technology transfer hub in both domestic and international level. TGGS operates under the academic cooperation agreement between KMUTNB and RWTH-Aachen University since 2005.