TGGS Academic Affairs
The TGGS Academic Affairs support the academic mission of TGGS by providing service to our current and former students, staff, and administration. These services include maintaining and protecting the integrity and security of the official academic record, registration, degree verification, scheduling and reporting. Our specific services include but are not limited to:
Enrollment and degree verification
Transcripts
Course and room scheduling
Academic and enrollment reporting
Grade collection, reporting and changes
Location: 3rd floor of TGGS Building
Open: Mon. – Fri. from 09.00 a.m. – 04.00 p.m.
Tel: +66 2555 2000 ext. 2931
KMUTNB Campus Map
KMUTNB Central Library
To support studying and teaching activities as well as research and development and to provide the best academic environment for students, the central library of KMUTNB provides access to electronic resources and other library services and includes academic service and facilities such as borrowing and returning books, interlibrary loan and copying, printing etc. The central library provides academic information resources to all faculty, staff and students, as well as to the general public. It holds more than 200,000 books, a variety of audio-visual aids including CD-ROMs, databases for research, and access via the internet to all Thai university libraries and to international libraries. A modern electronic library management system, including many online services and electronic book inventories, is employed to provide the best and most effective services.
Location: 2nd – 7th floor of Navamindra Rachini Building
Open: Mon. – Fri. from 8.00 a.m. – 8.00 p.m. | Sat. from 9.00 a.m. – 4.00 p.m.
Website: ttp://library.kmutnb.ac.th/th/
E-mail: library@kmutnb.ac.th
Tel: 02-555-2000 ext 2143
Language Center: Goethe Institute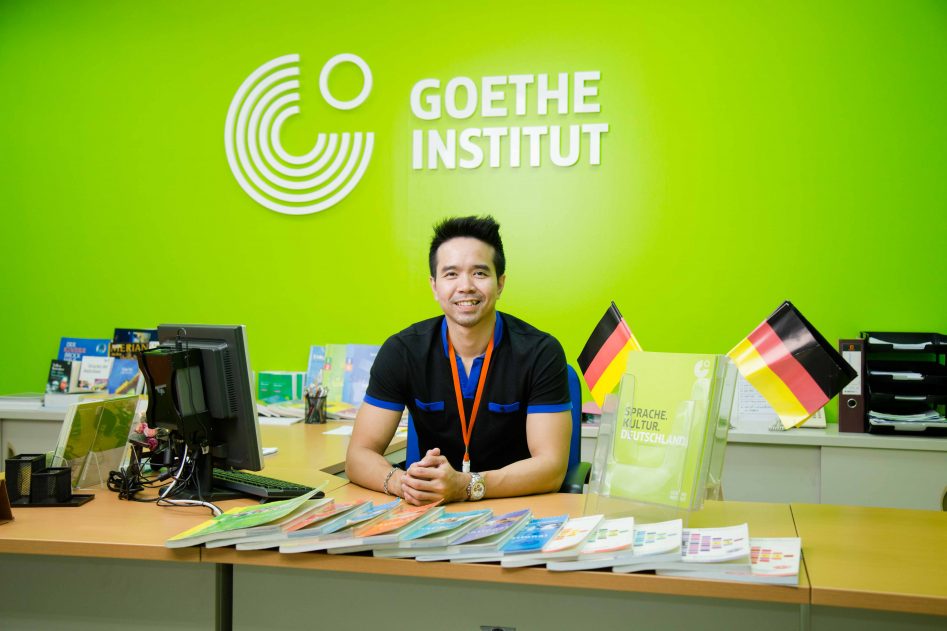 GOETHE Institute
A "German Centre" was established at TGGS in cooperation with Goethe Institute Bangkok in November 2007 to offer German Language Education to KMUTNB and TGGS students, particularly those who plan to do their internship and master thesis in Germany.
German courses:
Intensive courses in March and April (40 Units)
Extensive courses: evening classes from June to August (40 Units)
Extensive courses: evening classes from November to January (40 Units)
Besides German language courses, we also have cultural programs such as "Afternoon-Film", "Infos-Day of studying in Germany" etc.
Location: Office on the 5th floor of the TGGS building
Open: Tuesday and Thursday from 2 pm to 4.30pm
Website: Goethe-Institut Thailand
E-mail: panupong.chantawat@bangkok.goethe.org
International affairs
The student affairs have responsibilities to develop and to make readiness for students to become good graduates and good residents who are perfectly in physical, mind, intelligence, and society and they are promptly to alteration and plays important role in country development in the future. Student affairs division focuses on promoting the activities of students regardless of academics, sports, arts and culture, social benefits performing, and the division activities including to education and career guidance, students discipline promoting, services and welfares providing, moreover, the division aims to promote students progress in many ways such as student self assessments, career selection, student physicals, intelligences, behaviors, societies, and ethics development. Furthermore, the division pays attention to the management of the university's environment to support learning atmosphere.
Location: 10th floor of  President Office Building
Website: http://www.icc.kmutnb.ac.th/
IAESTE Thailand
The International Association for the Exchange of Students for Technical Experience was founded in 1948 at Imperial College, London. Imperial College Vacation Work Committee headed by Mr. James Newby initiated a meeting with national organizations from 10 European countries in a post-war effort to promote better understanding between countries and cultures.
Since 1948, the association has grown to include more than 93 countries worldwide and has exchanged in excess of 300,000 students. This means that yearly IAESTE exchanges around 6000 students playing a key role in the development of technical undergraduates able to make their mark in a global economy.
Location: Room 1003 on the 10th floor of  President Office Building
Website: http://www.iaeste.kmutnb.ac.th/
Email: iaeste@kmutnb.ac.th, sdcp@kmutnb.ac.th, web@iaeste-thailand.org
Tel: 02-912-2009, 02-555-2000 ext. 1025, 1193, 1194
Institute of Computer and Information Technology (ICIT)
The Institute of Computer and Information Technology is responsible for providing computer information services to students, teaching staff and other personnel at KMUTNB and for offering computing resources for education, research, and administrative purposes.
Services:
The Institute of Computer and Information Technology provides services to students and personnel both inside and outside the institute as follows:
Engineering Workstation under UNIX application system, including compiler, multimedia system, CAD/CAM/CAE/CAI applications such as electronics, mechanical and civil engineering for the purposes of design, analysis, manufacture, synthesis, and prototype.
The provision of internet and e-mail services for research work and communication. This also includes WWW servers both on KMUTNB campuses or via modem at home.
Computer systems and other facilities services for internal and external organizations.
Training services for both internal and external personnel and organizations.
Pradoodang Net, KMUTNB's campus network is also provided by ICIT for learning and teaching administration and internal communication.
Location: 3rd floor of  President Office Building
Open: Mon. – Fri. from 8.00 a.m. – 10.00 p.m. | Sat. from 8.00 a.m. – 4.00 p.m.
Website: http://www.icit.kmutnb.ac.th/
Tel: 02-555-2000 ext 2205
Sport facilities
Sports facilities at KMUTNB include a gymnasium for basketball, volleyball, badminton, tennis, table tennis, and a stadium for soccer and a fitness center.
Location: 3rd and 7th floor of  Entertainment Building
Open: Mon. – Fri. from 8.00 a.m. – 8.30 p.m. | Sat. from 9.00 a.m. – 4.00 p.m.
Website: KMUTNB Student Affairs
Tel: 02-555-2000 ext 1135, 02-555-2000 ext 1126
KMUTNB Health Center
Location:
The second floor of 79 building (building number 12)
Open:
Mon. – Fri. from 8.00 a.m. – 4.00 p.m.
Website:
KMUTNB Student Affairs
(please contact KMUTNB Health Center for open time and doctor schedule confirmation)
Post Office
KMUTNB Post Office provides all mail services as well as many bill payment services.
Location: 1st floor of President Office Building
Open: Mon. – Fri. from 8.30 a.m. – 4.30 p.m
Website: Thailand Post office KMUTNB branch
Tel: 02-913-2500 ext 1315