KMUTNB and TGGS Welcome the First Ph.D Student to Join NSIRC Ph.D Programme in Thailand
Bangkok, Thailand – King Mongkut's University of Technology North Bangkok (KMUTNB) and the Thai-German Graduate School of Engineering are pleased to welcome the first PhD student to join the NSIRC PhD Programme in Thailand.
Muhammad Tahir Farooq was selected from a pool of talented applicants and will be studying an industry-focused research project in collaboration with TWI and Lloyd's Register Foundation (LRF).
In the oil and gas industry, sudden failures to sliding components from wear and corrosion can cause fires and explosions.
---
Wear-Corrosion Mapping of Thermally Sprayed Cermet Coatings for Oil and Gas Applications
This research project aims to reduce the wear and corrosion of Plunger Pumps commonly used across the oil and gas industry in Thailand.
Outcomes are expected to benefit manufacturers that provide advanced coatings – offering solutions to several industry problems.
Tahir's academic journey and strong interest in the fabrication and characterisation of coatings have equipped him with the necessary skills to undertake this project.
"Tahir's meticulous eye for detail and passion for precision and innovation make him an ideal candidate to undertake this important research project," said Ammar Waseem, Project Leader of NSIRC International and spokesperson for TWI Ltd.
With expertise in techniques such as plasmas, cold spray and electrophoretic deposition, Tahir's industrial research skills were developed during his time as a research assistant in the Materials Science and Engineering Department at the prestigious Institute of Space Technology (IST) in Islamabad, Pakistan.
This collaboration between TWI, LRF and KMUTNB marks a significant step towards enhancing the safety and efficiency of the oil and gas industry in Thailand.
Through the NSIRC PhD Programme, industry in Thailand will continue to support talented students like Muhammad in the pursuit of innovative solutions to complex industry challenges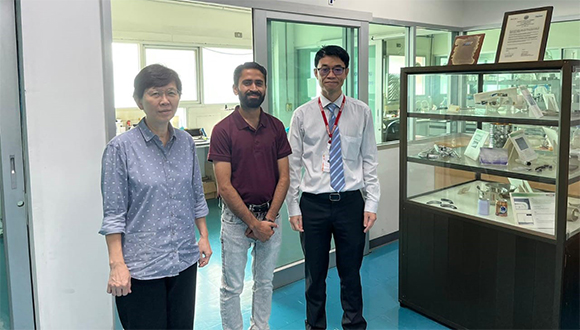 From left, Associate Professor Siriporn Daopiset, Muhammad Tahir Farooq and Assistant Professor Dr Peerawatt Nunthavarawong, outside the Corrosion Inhibitor Testing Laboratory. Photo: KMUTNB / TGGS
---
For more information, please contact
TWI – Granta Par, Great Abington, Cambridge CB21 6AL
Tel. +44(0) 1223 899000
E-mail: enquiries@nsirc.co.uk