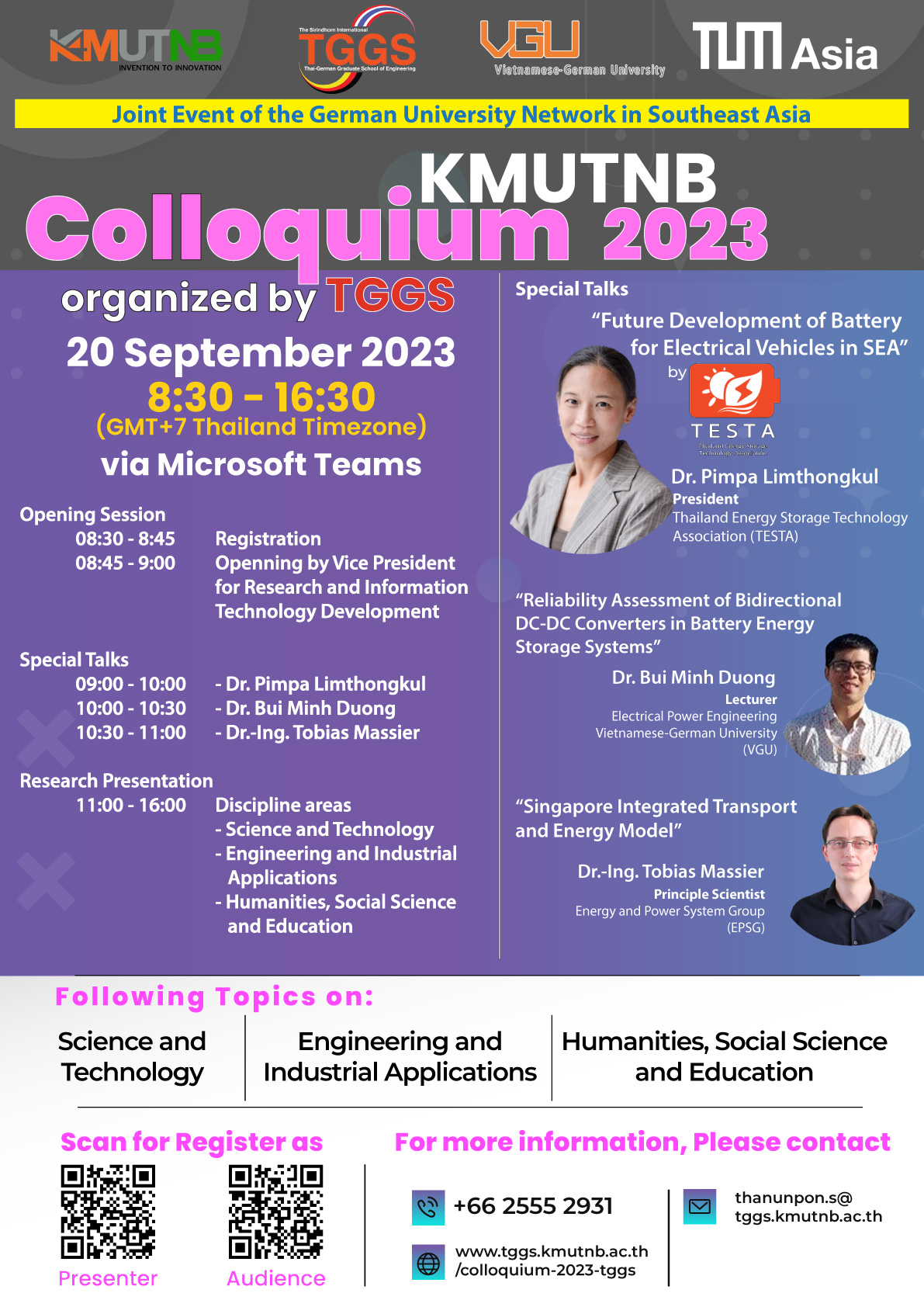 ---
Time

Schedule

Microsoft Teams Link

8:30 – 8:45
Registration
Main Room and Session 1
Meeting ID: 470 760 088 420
Passcode: uvn3j9
8:45 – 9:00

Opening ceremony by
Prof. Dr. Somrerk Chandra-ambhorn

Vice President for Research and Information Technology Development

Special talk by
9:00 – 10:00
"Future Development of Battery for Electrical Vehicles in SEA"
by Dr. Pimpa Limthongkul (TESTA)
10:00 – 10:30
"Reliability Assessment of Bidirectional DC-DC Converters in Battery Energy Storage Systems"
by Dr. Bui Minh Duong (VGU)
10:30 – 11:00
"Singapore Integrated Transport and Energy Model"
by Dr. Tobias Massier (EPSG) TUM
11:00 – 16:00
Research Presentations in Discipline areas
Presentation Table
Session 1: Science and Technology Session 1 Meeting ID: 470 760 088 420 Passcode: uvn3j9
| | | | | |
| --- | --- | --- | --- | --- |
| No. | Name | Level | Program | Topic |
| 1 | Mr. Praveenkumara Jagadeesh | Doctoral | Materials and Production Engineering | An assessment of the mechanical, thermal, and water absorption behavior of basalt micro-filler reinforced polymer composites |
| 2 | Divya Divakaran | Postdoctoral | Materials Science | Extraction and characterization of micro crystalline cellulose from an agro-waste Tamarind (Tamarindus indica) seeds and its suitability investigation for biofilm formulation |
| 3 | Lars Straub | Postdoctoral | Industrial Chemical Process and Environmental | Overview of pathogens and pesticide residues in major stingless bee species in Thailand and their effects on Tetragonula pagdeni |
---
Session 2: Engineering and Industrial Applications Session 2 Meeting ID: 470 760 088 420 Passcode: uvn3j9
| | | | | |
| --- | --- | --- | --- | --- |
| No. | Name | Level | Program | Topic |
| 1 | Mr. Nara NAkeenopakun | Doctoral | Materials and production engineering | Development of a Combined Bulging‑Piercing Technique to Reduce Forming Load for a Long Semihollow Stepped Part |
| 2 | Ms. Diana Jose | Doctoral | CHEMICAL AND PROCESS ENGINEERING | Development of deep eutectic solvent-based pretreatment and saccharification one-pot process from lignocellulose biomass |
| 3 | Mr. Resego Reginald Phiri | Doctoral | Materials and Production Engineering | Harnessing agricultural waste biomass for Bio-composite Development |
| 4 | Mr. Arulmozhivarman Joseph Chandran | Doctoral | Materials and Production Engineering | Utilization of Chitin fillers from discarded marine wastes for Polymeric Applications |
| 5 | Mr. Muhammad Uzair | Doctoral | Electrical and Computer Engineering | ITO transparent antenna for solar-powered IoT devices |
| 6 | Ms. Puttiporn Thiamsinsangwon | Doctoral | CHEMICAL AND PROCESS ENGINEERING | High-pressure carbon dioxide hydrogenation to methanol over CuO/ZnO/Al2O3-fiber catalysts |
| 7 | Neelu Raina | Postdoctoral | Chemical Engineering | A comparative study of binary DES solvents and sequential acid/alkali pretreatment for fermentable sugar production using sugarcane leaf biomass |
** Only pre-registered participants can attend the event **
---
รายละเอียดโครงการ
Event Details
Speaker Biography
โครงการสัมมนาความก้าวหน้างานวิจัย (KMUTNB Colloquium organized by TGGS) สำหรับนักศึกษาระดับบัณฑิตศึกษา
วัตถุประสงค์
เพื่อเป็นเวทีกลางแบบเปิดกว้างให้กับนักศึกษาระดับบัณฑิตศึกษาจากหลักสูตรต่างๆ ได้มีประสบการณ์ในการนำเสนอความก้าวหน้าการค้นคว้าวิจัย
เพื่อให้นักศึกษาที่เข้าร่วมนำเสนอความก้าวหน้าการค้นคว้าวิจัย ได้เห็นรูปแบบตัวอย่างวิธีการนำเสนอความก้าวหน้าการค้นคว้าวิจัย หรือการนำเสนอผลงานวิชาการ
วิธีดำเนินการ/ระยะเวลาดำเนินงาน: วันพุธที่ 20 กันยายน พ.ศ. 2566 เวลา 08.30 – 16.30 น. ผ่านโปรแกรม Microsoft Teams
รูปแบบการสัมมนา
การบรรยายพิเศษโดยวิทยากรผู้ทรงคุณวุฒิภายนอก
การนำเสนอผลงานวิจัยรูปแบบบรรยาย (Oral Presentation) ต้องนำเสนอด้วยPowerPoint และใช้เวลาในการนำเสนอเรื่องละไม่เกิน 10 นาที ซักถามไม่เกิน 5 นาที
ผู้นำเสนอผลงาน จะได้รับมอบเกียรติบัตรยืนยันการนำเสนอผลงาน/สามารถใช้ในการประเมินผล IP ได้ (ตามดุลยพินิจของอาจารย์ที่ปรึกษา)
ขอบข่ายการนำเสนอความก้าวหน้าของผลงานวิจัย
เป็นการนำเสนอความก้าวหน้าการค้นคว้าวิจัยของนักศึกษาระดับบัณฑิตศึกษา ที่เกี่ยวกับองค์ความรู้ใน 3 ประเภท ดังนี้
1.1  ประเภทวิทยาศาสตร์และเทคโนโลยี
1.2  ประเภทวิศวกรรมศาสตร์และการประยุกต์ใช้ในอุตสาหกรรม
1.3  ประเภทมนุษยศาสตร์ สังคมศาสตร์ และการศึกษา
ภาษาที่ใช้ในการนำเสนอใช้ได้ทั้งภาษาไทยและภาษาอังกฤษ (นักศึกษา TGGS นำเสนอเป็นภาษาอังกฤษเท่านั้น)
การส่งบทคัดย่อผลงานวิจัยและเอกสารประกอบการนำเสนอ ผู้นำเสนอส่งบทคัดย่อทั้งภาษาไทยและภาษาอังกฤษ (นักศึกษา TGGS เป็นภาษาอังกฤษเท่านั้น)
แบบฟอร์มลงทะเบียนการรับสมัครผู้นำเสนอได้ที่ [คลิกที่นี่]

กำหนดส่งวันสุดท้ายวันที่ 31 สิงหาคม 2566

รายละเอียดเอกสารประกอบได้แก่
2.1 Confirmation and Agreement (with e-signature of the presenter and the advisor)
2.2 PowerPoint of the presentation file
2.3 PDF of the Presentation file
2.4 Pre-Video record (ความยาวไม่เกิน 5 – 10 นาที)
ส่งเอกสารได้ที่อีเมล thanunpon.s@tggs.kmutnb.ac.th ได้ถึงวันศุกร์ ที่ 8 กันยายน พ.ศ. 2566
สำหรับผู้เข้าร่วมรับฟังการนำเสนอในโครงการสัมมนาความก้าวหน้างานวิจัย สำหรับนักศึกษาระดับบัณฑิตศึกษา (ผ่านโปรแกรม Microsoft Teams) ลงทะเบียนได้ถึงวันที่ 15 กันยายม 2566 [คลิกที่นี่]
** ตารางการนำเสนอผลงานวิจัย จะประกาศในวันที่ 1 กันยายน 2566 **
กำหนดการสัมมนา วันพุธที่ 20 กันยายน พ.ศ. 2566
08.30-08.45 น.
– ลงทะเบียน
08.45-09.00 น.
– พิธีเปิด โดย ศาสตราจารย์ ดร. สมฤกษ์ จันทรอัมพร
รองอธิการบดีฝ่ายวิจัยและเทคโนโลยีสารสนเทศ
09.00-10.00 น.
การบรรยายพิเศษ จากผู้เชี่ยวชาญ จากหน่วยงานภายนอก
10.00-12.00 น.
– นำเสนอผลงานวิจัย แบ่งตามกลุ่มสาขาวิชา
12.00-13.00 น.
– พักรับประทานอาหาร
13.00-16.00 น.
– นำเสนอผลงานวิจัย แบ่งตามกลุ่มสาขาวิชา (ต่อ)
หมายเหตุ กำหนดการอาจมีการเปลี่ยนแปลงได้ตามความเหมาะสม ติดต่อสอบถามรายละเอียดเพิ่มเติมได้ที่ บัณฑิตวิทยาลัยวิศวกรรมศาสตร์นานาชาติสิรินธร ไทย-เยอรมัน มหาวิทยาลัยเทคโนโลยีพระจอมเกล้าพระนครเหนือ โทรศัพท์ : 0-2555-2000 ต่อ 2931 Website: https://tggs.kmutnb.ac.th/ Facebook: https://www.facebook.com/TGGSBangkok/
KMUTNB Colloquium organized by TGGS
Objectives
To provide a public stage for graduate students from various fields to gain more experience in presenting their research progress.
To enable the participation of students to present their research progress with various examples of presenting research or academic presentations.
Event Date On Wednesday; September 20, 2023 (08.30 – 16.30) via Microsoft Teams
Seminar Format
Special talk by an external-expert speaker
The oral presentation must be presented using Microsoft PowerPoint with presenting time of 10 minutes for each topic and 5 minutes for Q&A.
The Committee chairman in each session will present a certificate to the presenter. This may be used for IP evaluation at the discretion of the advisor.
Scope of research progress presentation
To present the progress of research in 3 areas as follows
1.1 Science and Technology
1.2 Engineering and Industrial Applications
1.3 Humanities, Social Sciences, and Education
The language used in the presentation is available in both Thai and English. (The presenters from TGGS must be present in English as well as the presentation slides and abstract in English.)
Submission of research abstracts and documents
Presenters can attach the abstract file to this link [Click here]

deadline for abstract submission on Thursday 31 August 2023

Please submit the documents as follows:
2.1 Confirmation and Agreement (with e-signature of the presenter and the advisor)
2.2 PowerPoint of the presentation file
2.3 PDF of the Presentation file
2.4 Pre-Video record (Approximately 5 – 10 minutes)
The document files sent to Ms. Thanunpon Songmuangsuk, TGGS Academic Affairs Officer at thanunpon.s@tggs.kmutnb.ac.th Deadline for submitting all documents on Friday 8, September 2023
Registration for General Audience in Opened Colloquium Organized by TGGS for Graduate Students 2023 by 15 September 2023 [Click Here]
** Schedule List of the Research Topics will be announced by 1 September 2023 **
Seminar Schedule  20 September 2023
| | | |
| --- | --- | --- |
| 08.30 – 08.45 | – | Registration |
| 08.45 – 09.00 | – | Opening ceremony by Prof. Dr. Somrerk Chandra-ambhorn, Vice President for Research and Information Technology Developmen |
| 09.00 – 10.00 | – | Special talk by an external-expert speaker |
| 10.00 – 12.00 | – | Research presentations in discipline areas |
| 12.00 – 13.00 | – | Lunch break |
| 13.00 – 16.00 | – | Research presentations in discipline areas (continued) |
** Schedules are subject to change as appropriate. ** More information The Sirindhorn International Thai-German Graduate School of Engineering King Mongkut's University of Technology North Bangkok Tel: 0-2555-2000 ext. 2931 Website: https://tggs.kmutnb.ac.th/
Pimpa Limthongkul, Ph.D.
Position: President
Organization: Thailand Energy Storage Technology Association (TESTA)
Dr. Pimpa Limthongkul is a co-founder and is current the president of Thailand Energy Storage Technology Association (TESTA) which has a mission to Exchange-Connect-Nurture-Promote energy storage technologies for clean and efficient power systems in Thailand. She also is currently holding a position as Energy Innovation Research Group Director at the National Energy Technology Center (ENTEC), Thailand.
Dr. Limthongkul earned a B.S. in Materials Science and Engineering from Cornell University USA in 1997 and earned a Ph.D. degree in the same field with a minor in Technology and Policy from Massachusetts Institute of Technology, USA in 2002. She has over 25 years research and work experiences in both academic, government and private sectors in Thailand and USA. During the  last 2 decades, her work has been geared towards the development of energy storage materials and systems throughout the value chain to prepare for the transition to electric vehicles, renewable energy, and efficient power grid. She has co-authored over 70 scientific publications, co-invented over 20 patents/patents applications and led and participated in over 80 research projects funded by both government and private sectors. She has received several prestigious awards including L'Oréal for Women in Science fellowship (Thailand) in 2014, Innovation Award from Petroleum Institute of Thailand (PTIT) in 2019 and is part of the Thailand Academy of Science and Technology. Her research work has also helped found 2 battery companies: A123 Systems (2001) and 24M Technologies, Inc USA (2010).
Her research work has also helped found 2 battery companies: A123 Systems (2001) and 24M Technologies, Inc USA (2010). With her extensive experiences in the energy storage and sustainable energy field, Dr. Limthongkul has served as a technical expert in various National leveled committee/sub-committee, e.g. reviewer on energy storage related standards for Thailand International Standard Institute, Investment committee on Eastern Economic Corridor; Thailand National Electric Vehicle Committee (Infrastructure and Battery Subcommittee); National Energy Storage Industrial Promotion Committee.